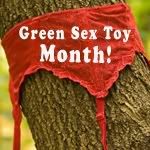 Head on over at
Pop My Cherry Reviews
. 30 days in April equals one GREEN sex toy giveaway each day.
Here
is her article on it ...
While you're at it,
Pledge to a Green Act
. I did. We want to let Chayden have a little garden of some sort. Lets hope we dont kill the plants!!